Bansko is a small town in Southwestern Bulgaria. It is located at the base of the Pirin mountains and is known for being Bulgaria's most popular ski resort. Like most ski resorts, there is plenty to do when you are not hitting the slopes. This post discusses is what it is like off the slopes in Bansko.
There is NO Snow in the town of Bansko
A ski town with no snow? Impossible! When we arrived in Bansko our immediate reaction was – "wow, there's no snow!"
Suddenly we felt extremely overdressed for what turned out to be extremely mild conditions. Make sure to account for this when packing – trainers and jeans are normal attire, NOT snowboots and heavy down feather jackets!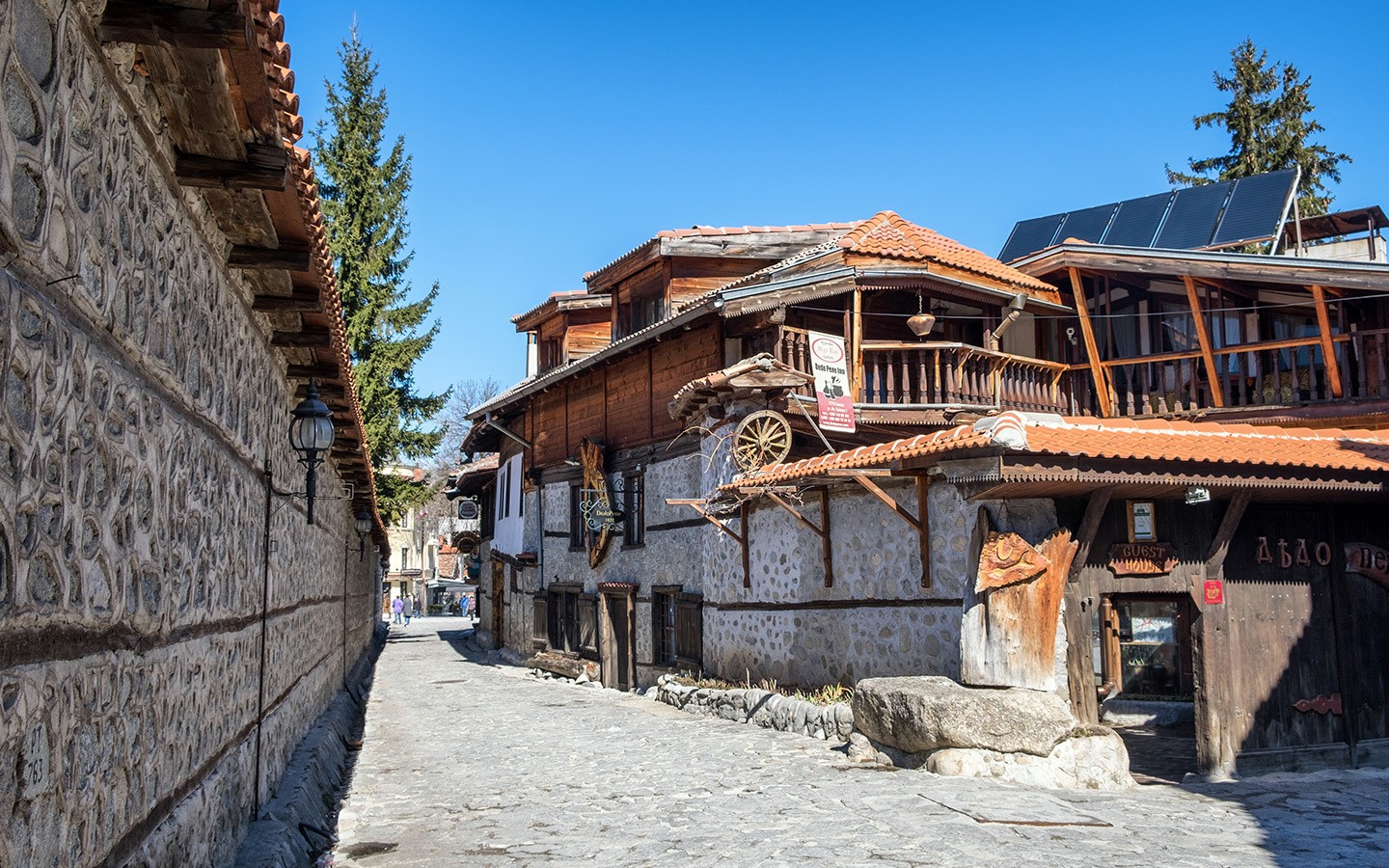 Most of the streets looked very similar to the street pictured above. Around every corner, you will find charismatic cobbled streets and unique stone buildings.
Plenty of Ski Hire Shops
The main street in Bansko, Pirin Street, has a plethora of different places to hire ski/snowboarding equipment from. Despite being a small town, you will be spoilt for choice with not only equipment hire shops, but also places offering snowsport tuition. Due to the high quantity of places offering similar products the prices are quite competitive… and reasonably cheap!
Apres Ski in Bansko
The apres Ski culture in Bansko is not the most prevalent but does have a certain charm.
Whether you're hitting the slopes or not, the atmosphere in the town is pretty lively throughout the day. However, it really starts to build at around 4:30/5 pm when most people return from a day on the slopes. The most popular place to enjoy apres-ski is 'Happy End', as it is conveniently located at the base of the mountain opposite the gondola station.
After a couple of hours at Happy End, most people return to their hotels and 'pre-drink" for a big night out on the town.
Bansko Street Food
The unsung hero in Bansko is the UNBELIEVABLY good crepes!
You are never far from a crepe stall as they are dotted all over the town – all of which are absolutely delicious. Whether your preference is sweet or savoury, these freshly prepared crepes do not disappoint!
There were also plenty of stalls selling fresh orange juice. Fresh Juice is produced and bottled right in front of you which makes it taste even sweeter.
Restaurants in Bansko
Bansko has no shortage of places to eat, from traditional Bulgarian Taverns to more western/American-influenced restaurants. As self-proclaimed "fussy eaters", were pleasantly surprised to find that we were spoiled for choice when it came to dining out,
Pirin street is packed full of restaurants. Much like many popular tourist destinations, employees stand outside of them and try to persuade you to pick their restaurant to dine in. I'd suggest heading up smaller streets leading off of Pirin street to find quieter, more traditional restaurants. Dining out in Bansko is extremely cheap, you will rarely spend more than £10 for a meal and a drink.
Banskos Abandoned Buildings
One of the most surprising things about Bansko is that it is completely covered in abandoned buildings such as unfinished hotels. There are even several buildings that are accessible to explore (at your own risk). Some of the buildings did seem a little dodgy so we tended to only explore the sturdy-looking ones.
Nightlife in Bansko
The nightlife in Bansko is vibrant without being overbearing. We found ourselves preferring a quiet few cocktails over a big night out most of the time. Once again, the prices of cocktails and other drinks are considerably cheaper than in the UK, especially if you are drinking something native to Bulgaria. We found from experience that the cocktails are VERY strong!
If you are looking for a big night out, you will definitely find what you are looking for in Bansko. There are plenty of clubs, the main ones being Flash Club, Bounce Club, and Oxygen. These can all be found in the centre of the town.
---
Bankso is jam-packed full of interesting features and quirky architecture and most importantly, plenty to do on and off the slope. Price-wise, for a typical ski holiday, this place truly is an absolute bargain. So if you are looking to spend some time at a budget ski resort this winter, Bansko is a perfect choice.
If you have any questions regarding Bansko, whether it is regarding the ski/snowboarding facilities or the town in general, please don't hesitate to ask. You can always find us in the comments!
If you liked this post, pin it – pretty please xoxo